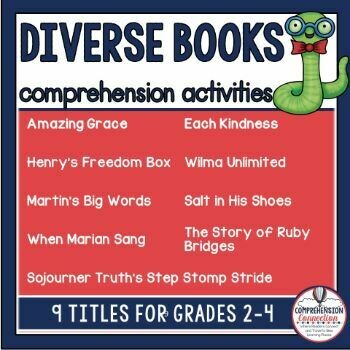 Diverse Books Reading Activities
SKU 00199
Product Details
This Diverse Book Bundle is not for use just in February. These titles need and should be used any time of year. These are some of the best titles on this topic for children and highlight the achievements of many famous African American athletes, musicians, scientists, and civic leaders. This bundle includes before, during, after activities as well as lapbooks and Class Book options.

The book companion units are based upon the following books:
✱Henry's Freedom Box
✱Wilma Unlimited
✱Each Kindness Book Companion and Kindness in the Classroom Lapbook
✱Salt in His Shoes
✱The Story of Ruby Bridges
✱Martin's Big Words
✱When Marian Sang
✱Sojourner Truth's Step-Stomp Stride
✱Amazing Grace

Product Contents
Each unit includes the following options:
A Schema Builder
Tier 2 Vocabulary Worksheets

Comprehension organizers aimed at thinking skills for:
Visualizing
Making Inferences
Using Text Evidence
Sequencing
and Questioning with task cards for QAR and Group Discussion

Post Reading Options:
Lapbook pieces (8 pages)
Class Book Options
Quick Writes


The bundle includes 220 pages in length to give you options for all 9 books. Your students will have the opportunity for learning many comprehension skills and strategies, learn about The Civil Rights Movement, Slavery and the Underground Railroad, Kindness in the Classroom, Acceptance, Perseverance, and so much more.
Save this product for later