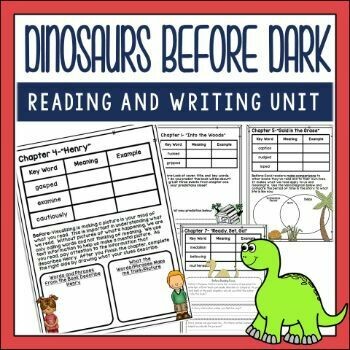 Dinosaurs Before Dark Book Companion
SKU 00091
Product Details
This guided reading unit is set up with before/during/after activities and vocabulary for each chapter. Each chapter focuses on a different comprehension skill making it a great choice for your class book clubs.
Skills include:
☀making predictions
☀visualizing
☀problem and solution
☀summarizing
☀character traits
☀question types
☀citing text evidence
☀author's purpose
☀making comparisons and connections
☀and drawing conclusions.
Group discussion is encouraged throughout the reading of the book. The unit would also work well reading partners. It's been tested in several classrooms and found to be easy to follow for parents and teaching assistants. An answer key is not included as some answers vary and group discussion fosters higher level thinking skills.
Save this product for later