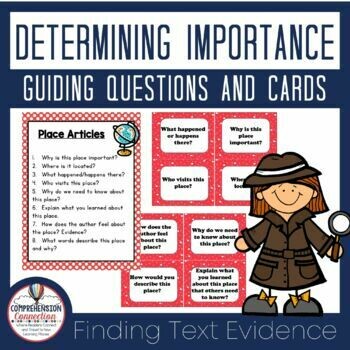 Determining Importance Question Anchor Charts and Task Cards
SKU 00302
Product Details
This set of question task cards are intended to be used with informational articles teachers choose for guided reading. They are intended to guide student thinking as they read specific types of articles (About Animals, People, Places, Important Events, and General Topics). If students learn to expect certain questions to be answered when they read an article about animals for example, then they will be strategic in their reading. The task cards can be laminated and used in centers with a changing article each week, used in guided reading group for discussion, or used with written responses to post reading questions during guided reading discussion.
The set includes five anchor charts that can be added to interactive notebooks for reference throughout the year.
Check out the preview images and if you have any questions, please do not hesitate to ask.
Save this product for later