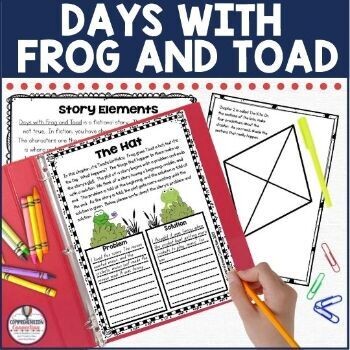 Days with Frog and Toad
SKU 00137
Product Details
Days with Frog and Toad is a wonderful choice for spring reading. Arnold Lobel's books are a hit for the primary grades. This fun and easy to use comprehension focused bundle includes lots of options for close reading.
HOW TO USE THE DAYS WITH FROG AND TOAD UNIT:
The bundle includes activities for each chapter of the book. Each has a comprehension skill focus along with vocabulary words. You can use these activities in small groups, as mentor text lessons, for book clubs, or for interactive read alouds to keep students engaged. Make planning easy and learning meaningful.
WHAT SKILLS ARE INCLUDED IN THIS DAYS WITH FROG AND TOAD UNIT?
Alphaboxes about Frogs and Toads
Vocabulary for each chapter
Story Elements Anchor Chart and Organizer
Making Predictions
Sequencing Events Cut and Sort
Questioning Anchor Chart
Thick and Thin Questions
Writing about Reading
Problem and Solution
Visualizing
Cause and Effect Anchor Chart and Foldable
Analyzing Your Book (Author's Purpose, Genre, and Point of View)
DAYS WITH FROG AND TOAD BOOM CARD DECK NOW INCLUDED:
This unit now includes a 20 card Boom Card Deck for discussion and comprehension. It's perfect for Zoom or Google Meet lessons and independent work after reading or with listening centers.
OTHER FROG AND TOAD UNITS YOU MIGHT LIKE:
I have also created units for Mouse Soup and Owl at Home.
GET THE FULL BUNDLE:
HERE'S WHAT OTHER CUSTOMERS THOUGHT ABOUT THE BUNDLE…
⭐️⭐️⭐️⭐️⭐️ Amber F. says, "I needed a book report activity for the beginning of the year. I was going to be gone on leave for the first three weeks. I used this for my students to do during those weeks while I was gone. This was perfect because all the sheets are easily explained and they had no problems completing them without me. Its a great resource!"
⭐️⭐️⭐️⭐️⭐️ Kathleen D. says, "I love the variety of activities in this unit! Fun activities that also cover a wide variety of skills. I am looking for more by this seller!"
⭐️⭐️⭐️⭐️⭐️ Toni H. says, "I spend a week reading Frog and Toad Books, my kids love them. This unit is a great addition! Thank you!"
⭐️⭐️⭐️⭐️⭐️ Camille J. says, "Very complete resource. Lots of options, so you can pick and choose whatever meets your needs."
Copyright © Comprehension Connection.
Permission to copy for single classroom use only.
Please purchase additional licenses if you intend to share this product.
Save this product for later