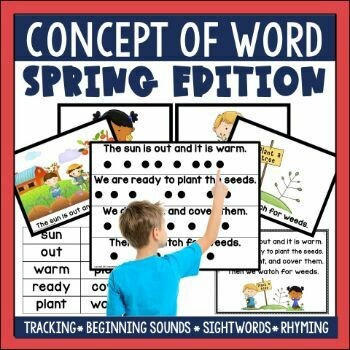 Concept of Word Spring Bundle
SKU 00002
Product Details
Product Description
This Concept of Word or COW intervention for emergent readers includes 13 poetry (10 pages each) for the time of year between March and June. This resource is best for students who are needing help with connecting spoken word to print.
WHAT'S INCLUDED:
Each poetry set comes with teaching posters, the poem on sentence strips with and without touchpoints, a touchpoint grid for use for those who have trouble connecting speech to symbols, the poems in book form, word cards for lessons and words in isolation, and the poem in page form for creating a poetry anthology for repeated reading throughout the year.
HOW TO USE THIS RESOURCE:
1) the teachers models with a projection of the teaching posters on a smartboard.
2) Once students have memorized the poem, they continue working on tracking and reading the poem.
3) In small groups, practice words in isolation, constructing sentences, identifying sightwords and beginning sounds, rhyming words, reading punctuation, tracking, and matching print.
4) Move it to a literacy station for those who are ready to practice on their own or with an assistant.

The poems work well for repeated reading with parent volunteers, for sight word hunts, for letter recognition, picture clues, and so much more.
© 2019 Comprehension Connection by Carla Fedeler All rights reserved.
The poems include the following topics:
Leprechauns
Frogs
Ducks
Flowers
Butterflies
Easter Bunny
Farming
Plants
Weather
Moms
Dads
Reading/Relaxation
Please look at each of the sample pages for an example of the product as well as the preview collage. A sampler set of the poem in the preview is available as a freebie in my store.
Here's what buyers are saying about my COW bundles:
"I have bought and love all of your concept of word poems and activities! Now with the updated version, there is so much more to love! Great for teaching Kinders concept of word which is so important to reading! Thank you!" Mary G July 2018
"I have the spring pack and it works WONDERFULLY. Looking forward to using this back now!" Kasi D January 2017
"My children were so much better prepared for first grade after using this bundle!! Rhonda H. August 2016
Let me know if you have any questions.
Carla
Save this product for later