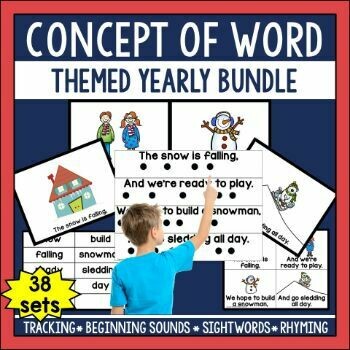 Concept of Word Seasonal Yearly Bundle
SKU 00154
Product Details
If you are a kindergarten teacher, this is a MUST HAVE yearly bundle. It includes 38 SEASONAL POETRY SETS (10 pages each) for the time of year between August and June. All of the poems are intended to go with units you typically teach. It is best for students who are needing help with connecting spoken word to print. Teachers model with a projection of the poem on a Smartboard, use the poem on sentence strips with small groups, or the PDF with individual students who are working with tutors.
Please Note-
This yearly bundle has been combined with an Animals A to Z COW bundle and a Nursery Rhymes bundle to form the Mega Bundle with ~80 poetry sets formatted just like the turkey poem in the preview.
WHAT'S INCLUDED:
Each poetry set comes with teaching posters, the poem on sentence strips with and without touchpoints, a touchpoint grid for use for those who have trouble connecting speech to symbols, the poems in book form, word cards for lessons and words in isolation, and the poem in page form for creating a poetry anthology for repeated reading throughout the year.
HOW TO USE THIS RESOURCE:
1) the teachers models with a projection of the teaching posters on a smartboard.
2) Once students have memorized the poem, they continue working on tracking and reading the poem.
3) In small groups, practice words in isolation, constructing sentences, identifying sightwords and beginning sounds, rhyming words, reading punctuation, tracking, and matching print.
4) Move it to a literacy station for those who are ready to practice on their own or with an assistant.

The poems work well for repeated reading with parent volunteers, for sight word hunts, for letter recognition, picture clues, and so much more.
© 2019 Comprehension Connection by Carla Fedeler All rights reserved.
The poems include the following topics:
Apples
Play
Starting school
Fall
Bats
Owls
Football
Airplanes
Spiders
Pumpkins
Halloween
Bears
Bees
Bugs
Farm
Thanksgiving
Friends
Polar Bears
Cookies
Camping
Gingerbread Man
Fishing
Penguins
Christmas
Reindeer Party
Snowman
Leprechauns
Ducks
Farming
Gardens
Flowers
Frogs
Ducks
Easter Bunny
Butterflies
Rainy Weather
Father's Day
Mother's Day
Trees/Reading
*38* poems in all to provide you with COW work all year long.
This

bundle includes a poem for each week. Repetition is the key to

developing COW, so practice daily is important. Pull out your favorite

pointers, and let your kids be teacher for the day. For a detailed look,
be sure to check out the preview provided.
Here's what buyers are saying about my COW bundles:
"I have bought and love all of your concept of word poems and activities! Now with the updated version, there is so much more to love! Great for teaching Kinders concept of word which is so important to reading! Thank you!" Mary G July 2018
"I have the spring pack and it works WONDERFULLY. Looking forward to using this back now!" Kasi D January 2017
"My children were so much better prepared for first grade after using this bundle!! Rhonda H. August 2016
Save this product for later