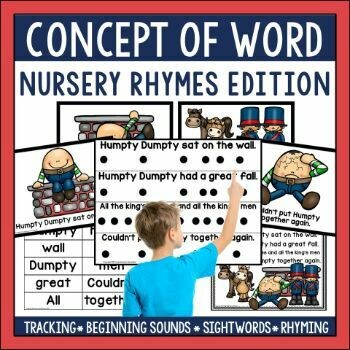 Concept of Word Nursery Rhymes Bundle
SKU 00012
Product Details
PRODUCT DESCRIPTION

This Nursery Rhymes Bundle includes *12* nursery rhymes formatted for working on building a concept of word. Students work on accurate tracking, beginning sounds recognition, sightwords, rhyming, and more.
What's Included:
1) the poem written on sentence strips for a pocket chart
2) touchpoint supported pages for modeling and practice (2)
3) picture supported slides for teaching the poem (4)
4) the rhyme in 1/4 pages for practicing in book form (small group)
3) a key vocabulary word list
4) and a final page that can be projected or printed for students to color and kept for an end-of-the-year book, repeated readings, or to use with parents and classroom volunteers.
ALL OF THE FOLLOWING NURSERY RHYMES INCLUDED:
Hickory Dickory Dock
Hey Diddle Diddle
Baa Baa Black Sheep
Humpty Dumpty
Itsy Bitsy Spider
Jack and Jill
Little Bo Peep
Little Miss Muffet
Mary had a Little Lamb
Rain Rain Go Away
Twinkle Twinkle Little Star
I'm a Little Teapot
125 pages total
For a detailed look at one of the sets, be sure to check out the preview provided. You might also try one of the COW freebies in my store.
© 2019 Comprehension Connection by Carla Fedeler All rights reserved.
Save this product for later