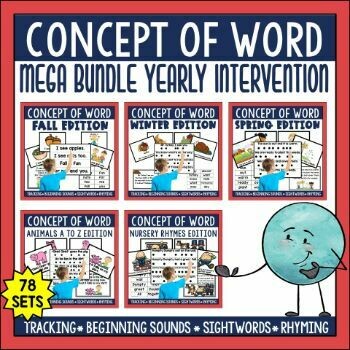 Concept of Word Intervention Mega Bundle
SKU 00072
Product Details
Developing a concept of word/print is essential for emergent readers to begin reading. This mega bundle includes 78 poetry sets and ~800 pages. You have ample options to choose from for an entire year of learning fun. Each poetry set comes with teaching posters, the poem on sentence strips with and without touchpoints, a touchpoint grid for use for those who have trouble connecting speech to symbols, the poems in book form, word cards for lessons and words in isolation, and the poem in page form for creating a poetry anthology for repeated reading throughout the year.
With each set, the teachers models with a projection of the teaching posters on a smartboard. Once students have memorized the poem, they continue working on tracking and reading the poem. You can use it with small groups or move it to a literacy station for those who are ready to practice on their own or with an assistant.

The poems work well for repeated reading with parent volunteers, for sight word hunts, for letter recognition, picture clues, and so much more. All poems in this set are the original work of Carla Fedeler at Comprehension Connection.

The poems included in the bundle feature the following topics:
Apples
Play
Starting school
Fall
Bats
Owls
Football
Airplanes
Spiders
Pumpkins
Halloween
Bears
Bees
Bugs
Farm
Thanksgiving
Friends
Polar Bears
Cookies
Camping
Gingerbread Man
Fishing
Penguins
Christmas
Reindeer Party
Snowman
Leprechauns
Ducks
Farming
Gardens
Flowers
Frogs
Ducks
Easter Bunny
Butterflies
Rainy Weather
Father's Day
Mother's Day
Trees/Reading
Hickory Dickory Dock
Hey Diddle Diddle
Baa Baa Black Sheep
Humpty Dumpty
Itsy Bitsy Spider
Jack and Jill
Little Bo Peep
Little Miss Muffet
Mary had a Little Lamb
Rain Rain Go Away
Twinkle Twinkle Little Star
I'm a Little Teapot
Ants
Black bears
Cats
Dogs
Elephants
Fish
Frogs
Geese
Horse
Iguana
Jaguar
Kangaroo
Lion
Monkey
Newt
Owls
Penguins
Pigs
Quail
Rabbit
Sea lion
Turtle
Urchin
Viper
Walrus
X-ray fish
Yak
Zebra

*78* poems in all and 791 pages
Save this product for later