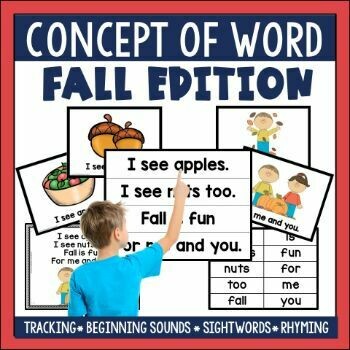 Concept of Word Fall Bundle
SKU 00011
Product Details
RESOURCE DESCRIPTION:

This Concept of Word or COW intervention for emergent readers includes 14 poetry sets (10 pages each) for the time of year between August and November. This resource is best for students who are needing help with connecting spoken word to print and are working on learning to read. Teachers can model with a projection of the poem on a Smartboard, use the poem on sentence strips with small groups, or use the PDF with individual students.
WHAT'S INCLUDED:
1) the poem written on sentence strips for a pocket chart or small group work
2) teaching pages and a touchpoint page for student practice as the teacher reads
3) the poem with touchpoint underneath
4) the poem on1/4 pages to teach the poem with pictures and to put in book form
5) a key vocabulary word list for words in isolation
6) a page in black and white for students to color and work on within guided reading
7) and a final page that can be projected or printed for students in color.
10 pages per poetry set
HOW TO USE THIS RESOURCE:

These poems work well for repeated reading with parent volunteers, for sight word hunts, for letter recognition, tracking, reading white space, comprehension activities, and of course, concept of word.
TOPICS INCLUDED:
Apples
Play
Starting school
Fall
Bats
Owls
Football
Airplanes
Spiders
Pumpkins
Halloween
Bears
Bees, and
Bugs/Picnics
Please look at each of the sample pages for an example of the product.
Here's what buyers are saying about my COW bundles:
"I have bought and love all of your concept of word poems and activities! Now with the updated version, there is so much more to love! Great for teaching Kinders concept of word which is so important to reading! Thank you!" Mary G July 2018
"I have the spring pack and it works WONDERFULLY. Looking forward to using this back now!" Kasi D January 2017
"My children were so much better prepared for first grade after using this bundle!! Rhonda H. August 2016
© 2019 Comprehension Connection by Carla Fedeler All rights reserved.
Save this product for later