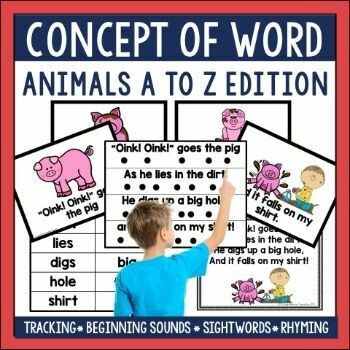 Concept of Word Animals A to Z Bundle
SKU 00001
Product Details
This Concept of Word Bundle features Animals A to Z. There is a poetry set for each letter of the alphabet focused on a different animal. The sets give you 28 ORIGINAL poems to fit the teaching themes, letters and sounds you're featuring in class.
Each set includes ten pages that are set up as follows:
Teaching Posters-One sentence per page..great for projecting
Touchpoint Grids for students to practice matching spoken word to text.
Sentence Strips-Each poem comes on sentence strips with and without touchpoints for scaffolding.
Book Form-Use the pictures to teach the poem. Then, practice it in book form. For advanced students, use it for reading.
Vocabulary Word Cards-Match text, identify rhyme, or practice decoding.
Page form-Collect these in poetry folders for your students to reread after they've been taught. At the end of the year, your students will have a great keepsake for summer reading too.
Product Information
This Concept of Word Bundle will give you original poetry to fit your teaching themes. They can be projected on your Smartboards or printed for students to handle. Use them in whole group, small group, in pairs, or individually.
Product Contents
Topics included in the bundle are listed below:
ants
black bears
cats
dogs
elephants
fish
frogs
geese
horse
iguana
jaguar
kangaroo
lion
monkey
newt
owls
penguins
pigs
quail
rabbit
sea lion
turtle
urchin
viper
walrus
x-ray fish
yak
zebra
I typically use one poem for each week, but pace according to your students' needs. Repetition is the key to developing COW, so practice daily is important. Pull out your favorite pointers, and let your kids be teacher for the day.
For a detailed look, be sure to check out the preview provided. You might also try one of the COW freebies in my store..
© 2019 Comprehension Connection by Carla Fedeler All rights reserved.
Save this product for later