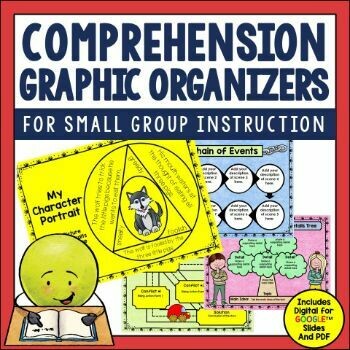 Comprehension Graphic Organizers
SKU 00106
Product Details
These comprehension graphic organizers will provide teachers with GRAB AND GO tools for quick instruction and assessment of comprehension skills. They're PERFECT for GUIDED READING and STRATEGY GROUPS. Teachers can print a set for each student, laminate and bind them, and keep them at the guided reading table for quick access OR use the digital version with one-to-one devices. Students will love the variety.
WHAT'S INCLUDED:
⭐️ visualizing with five senses
⭐️ draw and describe
⭐️ chain of events
⭐️ artist storyboard
⭐️ characterization
⭐️ setting
⭐️ plot development
⭐️ my character portrait
⭐ conflict roadmap
⭐️ main idea tree
⭐️ main idea (growing plants)
⭐️ making inferences about characters
⭐️ character change
⭐️ making inferences about the setting
⭐️ setting change
⭐️ just the facts
HOW TO USE:
The PDF version is intended to be laminated and bound using spiral bindings (set equal to reading group sizes) and used with any book including both guided reading books and read alouds. Pages can also be printed for students to complete independently for a check of understanding. Dry erase markers will be needed for some mats while some are used with marking chips. Dry erase markers will need to be fine tipped to make usage neater. Teachers may also use them with page protector pockets. The set includes 20 slides (16 mats) and would be best suited to grades 2 and up due to writing ability.
The digital version uses Google Slides TM. You can select the slide you want and share it via Google Classroom TM.
For a detailed look at this unit, a preview is provided with most pages visible.
© 2019 Comprehension Connection by Carla Fedeler All rights reserved.
Save this product for later