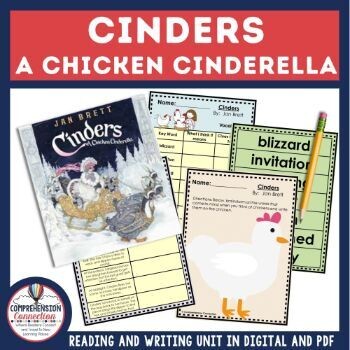 Cinders, A Chicken Cinderella Book Activities
SKU 00318
Product Details
Cinders by Jan Brett is a version of Cinderella. and it is one you and your students will love. The illustrations are just precious. and like Jan Brett's other books, the vocabulary is rich and meaningful. This unit comes in both digital for Google Slides TM and pdf. EASEL will be coming tomorrow, so all you need to do is figure out which lessons you wish to teach.
ABOUT THE CINDERS UNIT:
In this bundle is set up in a before., during,. and after format and includes both reading and writing lessons. These comprehension focused activities will make planning so much easier saving you tons of time. The resource includes skill based activities for the following skills, a procedural text prompt, and vocabulary.
ACTIVITIES TO USE WITH CINDERS:
1. Brainstorming activity about chickens
2. Vocabulary graphic organizer and word cards
3. Story Impressions
4. Theme Anchor Chart and Activity
5. Character Traits Anchor Chart and Organizer
6. Question Task Cards and Response Form
7. How to Raise Your Own Chickens Writing Set (includes anchor charts for teaching procedural texts and language, writer checklist, brainstorming page, planning page, cover, and writing pages.
19 pages in color for Google Slides TM and 19 pages PDF
Save this product for later