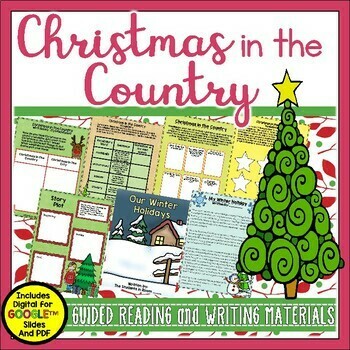 Christmas in the Country Book Activities
SKU 00259
Product Details
Christmas in the Country is another descriptive book by Cynthia Rylant. This 50 page unit (25 PDF and 25 Digital with Google Slides) for the book includes many options. You can use this book as a mentor text or in guided reading groups, literature circles, or for partner work.
Skills addressed with the book include:

prereading schema builder about holiday celebrations
vocabulary introduction
comprehension skills including making comparisons
sequencing
summarizing
visualizing with text evidence
questioning strategies (QAR with question cards for either centers or small group instruction)
holiday descriptive writing (poem)
and a post reading class book that can be used in conjunction with this book or other winter books.
This unit is compared to the book, Silver Packages also by Cynthia Rylant, so be sure to check that unit out as well.


This unit can be purchased individually through this link or as part of the Cynthia Rylant Author Study below. (best value)
Cynthia Rylant Author Study
Save this product for later