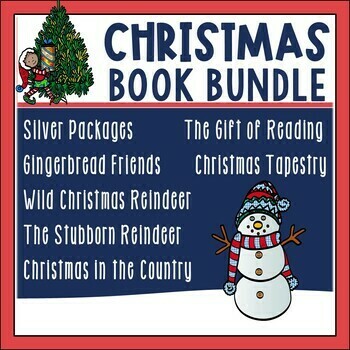 Christmas Book Unit Bundle
SKU 00278
Product Details
This unit bundle features five sweet Christmas books and activities perfect for reading and writing workshop plus two holiday partner plays. The books featured in this bundle include the following titles:
Wild Christmas Reindeer by Jan Brett
Gingerbread Friends by Jan Brett
Christmas Tapestry by Patricia Polacco
Silver Packages by Cynthia Rylant
Christmas in the Country by Cynthia Rylant, and
The Gift of Reading by...Me
Stubborn Christmas Reindeer by...Me
Skills included in this bundle are:
prereading schema building
vocabulary instruction
narrative elements
cause and effect relationships
sequencing
character traits and development
questioning strategies (QAR, Using Text Evidence, and Question Task Cards)
making connections and comparisons
summarizing
visualizing, and
making predictions
Total value of this bundle is 38.00, but is discounted to $28.00.
If you have any questions, please do not hesitate to ask. I will respond quickly.
Thanks for visiting!
Carla
Save this product for later