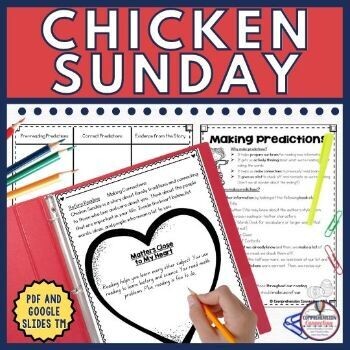 Chicken Sunday Book Companion
SKU 00095
Product Details
Chicken Sunday by Patricia Polacco is a great choice for spring or any time of year, really. This comprehension focused bundle will save you TIME and provide your kids with meaningful learning for a great book!
HOW IS THIS CHICKEN SUNDAY UNIT ORGANIZED?
The unit is organized in a before/during/after format and is Common Core aligned. It includes a full color digital option using Google Slides TM and black and white PDF for printing.
WHAT SKILLS ARE INCLUDED IN THE CHICKEN SUNDAY UNIT?
Prereading schema building
Tier 2 vocabulary
Making predictions with DRTA 3 pages
Analyzing author's craft 2 pages
Narrative elements
Sequencing
Making connections
Compare and Contrast with Rechenka's Eggs
Summarizing
Questioning Task Cards/Response form OR printable quiz page
Writing Prompt (24 pages total for PDF and 24 for Digital)
For a detailed look, you can preview the file using the link provided.
TEACHERS LIKE YOU SAID…
⭐️⭐️⭐️⭐️⭐️ Abby Wade says, "This was so helpful during summer school. My students loved using these packets to really dig in to the books we were reading. "
⭐️⭐️⭐️⭐️⭐️ Ellen C. says, "This is a great product! Thank you so much for creating it and being so responsive to my questions in a very timely manner! I will be looking out for more of your resources.....so time saving!"
⭐️⭐️⭐️⭐️⭐️ Kristi S. says, "I absolutely adore your guided reading units!!! They are always so jam-packed with fun and engaging activities that promote learning!! Just like "The Little Seed," I appreciate the cross-curricular nature of this packet. I will be able to meet curriculum expectations in both Language Arts and Social Studies!! I am looking forward to using this with my kidlettes the next time that I teach Grade 2, as "Traditions and Celebrations" is part of the curriculum for that grade! Thank you for creating it =)."
⭐️⭐️⭐️⭐️⭐️ Brand Your Brain says, "Great resource. Thank you for making this both digital and print for our hybrid schedule. "
OTHER PATRICIA POLACCO UNITS YOU MAY ENJOY
To get them all, purchase the Patricia Polacco Author Study Bundle.
PATRICIA POLACCO AUTHOR STUDY IN DIGITAL AND PDF
Copyright © Comprehension Connection.
Permission to copy for single classroom use only.
Please purchase additional licenses if you intend to share this product.
Save this product for later