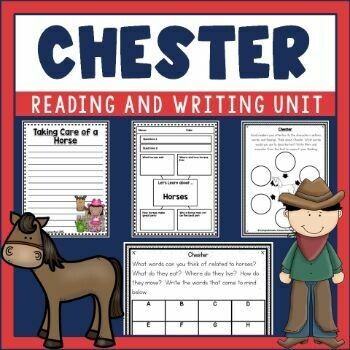 Chester by Syd Hoff Book Companion
SKU 00132
Product Details
contents for mentor text lessons, with guided reading groups, or
literature circles. The unit is aligned to Common Core and VA SOLS in a
before, during, after format.
I love that Syd Hoff's books include many sightwords and words with vowel patterns that my students have learned. His books allow for many teaching options and are true classics. This book is great for use any time of year.
WHAT'S INCLUDED:
Prereading schema builder about horses
Tier 2 vocabulary
Parts of a Story
Making Predictions
Author's Purpose
Sequencing Events
Character Traits
Story Elements Sort
Question task cards to discuss the story with a response sheet
Horse Research and Taking Care of a Horse Paragraph Writing (4 pages)
and my favorite scene writing prompt (22 pages total)
For a detailed look at this unit, a preview is provided with most pages visible.
© 2019 Comprehension Connection by Carla Fedeler All rights reserved.
Save this product for later