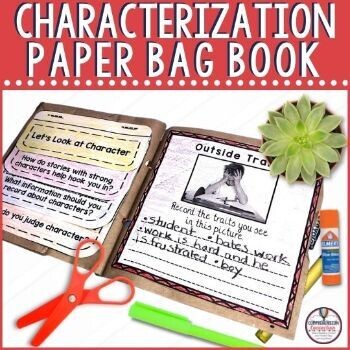 Characterization Paper Bag Book for Comprehension
SKU 00075
Product Details
Analyzing characters helps students make connections and deepens understanding. This resource breaks down this skill into teachable points and can be used with strategy groups, as a work station, in interactive notebooks, or as an at home project. Students learn what to look for in analyzing characters, about outside and inside traits, direct and indirect methods of revealing traits, what traits are (positive and negative) and ways to record evidence, apply characterization with two books, and summarize what they've learned. You can use the pages in the book as displayed or in interactive notebooks.
HOW TEACHERS CAN USE THIS CHARACTERIZATION PROJECT:
When you are working on character traits and character analysis, you can use the components as part of your small group instruction. I suggest you use the first few pages for modeling and follow a gradual release model. You can have student finish the book as a culminating activity for the texts you are studying. These projects can easily be displayed for students to recommend books to each other or hung in the hallway. You can also use the pieces in interactive notebooks if you prefer to use the project with another text later on.
WHAT COMPONENTS ARE INCLUDED IN THE CHARACTERIZATION PROJECT?
Cover
What Characterization Means and How to Analyze
Direct and Indirect Characterization
Determining Traits
On My Own Notetaking
Characterization Flipbook
Outside Traits in Pictures
Sorting Positive and Negative Traits
Characterization in Amazing Grace
Characterization in Mr. Lincoln's Way
Summary of my Learning
Grading Rubric
WHAT OTHER TEACHERS HAVE SAID ABOUT THIS PROJECT:
⭐️⭐️⭐️⭐️⭐️ Ashley E. says, "Wonderful resource! I loved the two lit books chosen to go with the activity. I hope you make a bag about different character types one day - i.e. flat vs round etc. "
⭐️⭐️⭐️⭐️⭐️ Buyer says, "I just watched your amazing video about this resource and can't wait to use this with my daughter. Amazing Grace is one of our favorite books, and the way you presented the lesson will help make it meaningful as we work on characterization this week. I am going to check out your other paper bag books now. "
⭐️⭐️⭐️⭐️⭐️ Katie Shea (TpT Seller) says, "This is very helpful. My kids enjoyed it. Thanks!!"
OTHER PAPER BAG BOOKS YOU AND YOUR STUDENTS WOULD ENJOY:
To get them all, purchase the bundle (includes 15 projects!)
Paper Bag Book Bundle for Reading Comprehension
Copyright © Comprehension Connection.
Permission to copy for single classroom use only.
Please purchase additional licenses if you intend to share this product.
Save this product for later