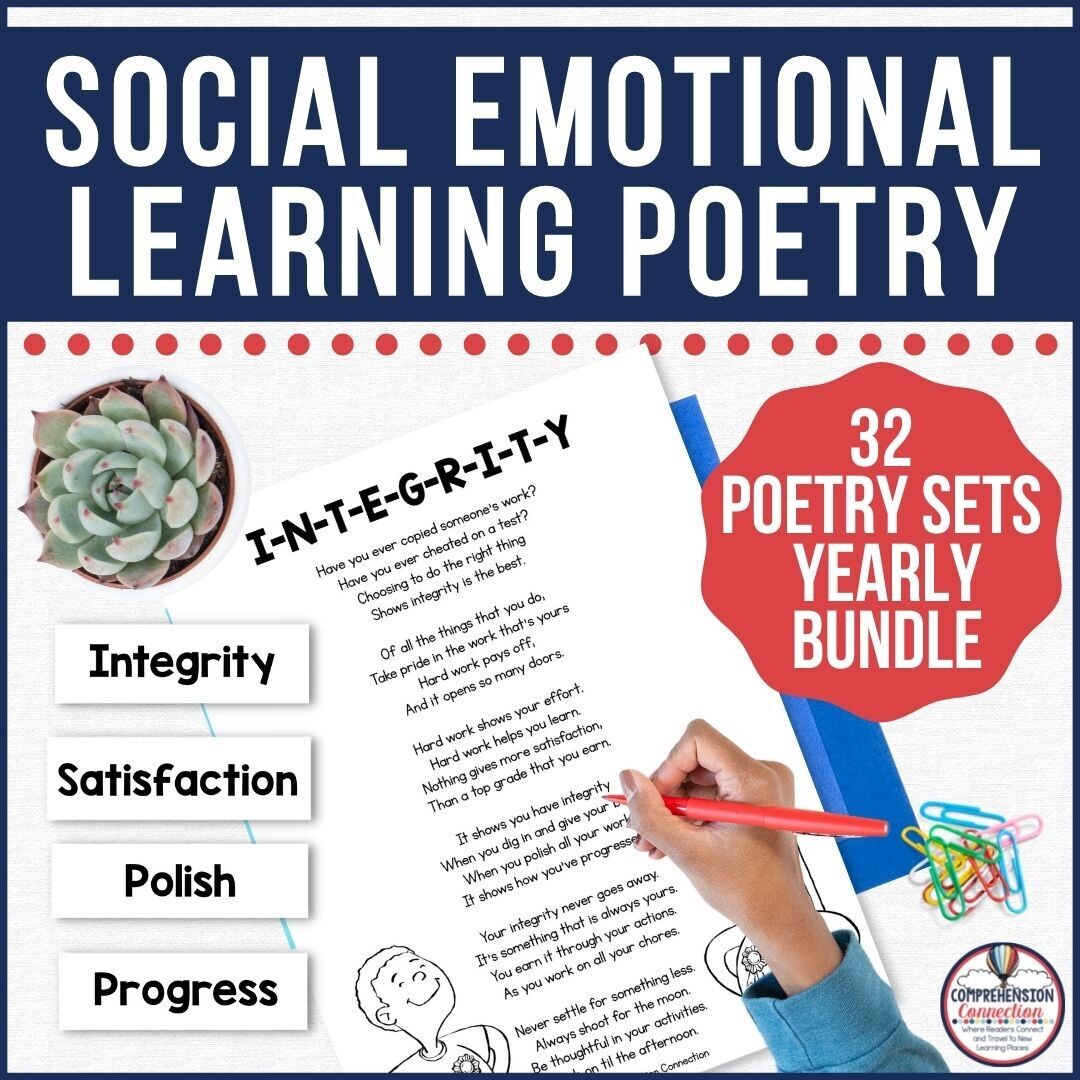 Social Emotional Learning Poetry | Character Building Activities Bundle
SKU 00083
Product Details
Student behavior and emotional regulation are big factors in children's classroom success. My
Character in the Classroom Poetry YEARLY Bundle
is intended to serve two purposes: build reading fluency AND spark conversations. The bundle includes 32 original poems and supplementary printables focused on comprehension, character building, and word study. The poems have been thoughtfully written for students in grades 2-5, and each set is intended to last a week.
How to Use this Resource:
The best use of the poems would include practice with repeated reading, highlighter hunts, phrase marking, and with the printables included. Use them with whole group for modeling or for your morning meetings as discussion starters, in guided reading groups, for literacy stations, and any time you are waiting (for buses, before lunch, for library, etc) Perfect for the beginniing of the year as you work on community building too.
Check out the preview images for a look at how the poetry sets are organized.

Thirty two different traits are included:
Bullying, Bragging, Lying, Tattling, Cheating, Digital Citizenship, Judgement, Anger, Sharing, Empathy, Perseverance, Integrity, Compassion, Positivity, Generosity, Responsibility, Confidence, Respect, Trustworthiness, Honesty, Kindness, Greed, Patience, Cooperation, Teamwork, Character Development (as a whole), Fairness, Conflict Resolution, Inclusion, Leadership, Honor, Goal Setting, Procrastination, Apologizing
Each set includes 5 pages:
(The Poem, Vocabulary Cards, Comprehension Questions/Word Work, Concept Building, and Visualizing/Text Evidence
List of Poems:
✪ What a Year!
✪ Are You Trustworthy?
✪ Patience Gertrude!
✪ Working Together
✪ RESPECT
✪ Kindness
✪ Greedy Gus
✪ Be Confident!
✪ Sharing is Caring
✪ Let's Show Empathy
✪ Can You Persevere
✪ INTEGRITY
✪ Compassion is Key
✪ Generous Gestures
✪ Let's Be Responsible
✪ Let's Get Positive
✪ Don't Be a Bully
✪ Bragging Bart
✪ Lyin' Larry
✪ I'm Tellin'
✪ Cheaters Never Win
✪ What's Your Digital Footprint
✪ Use Your Filter
✪ Get Your Anger Out
✪ That's Not Fair
✪ The Procrastinator
✪ Can I Come?
✪ Let's Work It Out
✪ Apology Accepted
✪ The Leader in Me
✪ On My Honor
✪ Shoot for the Stars
32 POETRY SETS IN ALL
Save this product for later