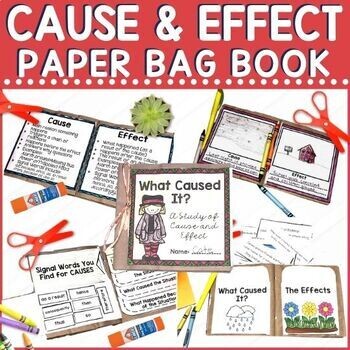 Cause and Effect Paper Bag Book
SKU 00023
Product Details
Cause and Effect Relationships are taught by nearly every teacher, but it's such a hard skill for students. This cause and effect project can help BREAK IT DOWN for your kids. It includes teaching materials, guided practice and independent work. It can be used as a work station, in interactive notebooks, with strategy groups, or as an at home project.
WHAT DO STUDENTS LEARN WITH THIS CAUSE AND EFFECT ACTIVITY?
Students explore the difference between cause and effect, work on signal words, create example situations, sort examples, illustrate examples, find examples in reading, and explain their learning. A grading rubric is included.
HOW IS THE CAUSE AND EFFECT PAPER BAG BOOK ORGANIZED?
The book includes the following pages and activities:
Cover
Cause and Effect Explained
Sorting Signal Words
Outline an example
Sort Statements into Cause/Effect Pockets
Illustrate a Cause/Effect Example
Cause and Effect in my Reading
Summarizing My Learning
Grading Rubric
OTHER COMPREHENSION FOCUSED PAPER BAG BOOK PROJECTS:
GET THEM ALL IN THE PAPER BAG BOOK BUNDLE:
Paper Bag Book Bundle for Reading Comprehension
WHAT TEACHERS HAVE HAD TO SAY ABOUT MY PAPER BAG BOOK PROJECTS:
⭐️⭐️⭐️⭐️⭐️ Pamela V. says, "I used this project for seat work while I worked with small groups. I gave short directions before they began and students worked at their own pace. It was easy to see who "got it" and who didn't as they moved through the project."
⭐️⭐️⭐️⭐️⭐️ DeeDee C.says, "This is such an original idea! My students enjoyed this and learned a lot at the same time!"
⭐️⭐️⭐️⭐️⭐️ Maureen O. says, "Fabulous resource! Thank you for creating such a great product:)"
⭐️⭐️⭐️⭐️⭐️ Megan S. says "Excellent resource! I would recommend to others. Students were engaged and were able to demonstrate their knowledge of fact and opinion. I might suggest adding an answer page for the key word sort as we had a lot of disagreement and discussion about these words. Thank you for a great resource!"
⭐️⭐️⭐️⭐️⭐️ Marie S. says "This was so much fun to do with our students! The activity was done within a week, but it was so engaging and the students were really understanding the purpose and concept of the lesson. Such a big help!!"
Copyright © Comprehension Connection.
Permission to copy for single classroom use only.
Please purchase additional licenses if you intend to share this product.
Save this product for later