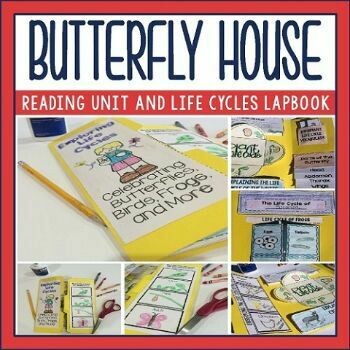 Butterfly House by Eve Bunting Activities
SKU 00089
Product Details
Butterfly House by Eve Bunting is the perfect book for spring or to tie into studies of life cycles. This unit includes before/during/after activities to use with the book in mentor text lessons, for guided reading, or an interactive read aloud. PLUS, you get...a LIFE CYCLES LAPBOOK to use in science.
WHAT'S INCLUDED?
prereading schema builder about butterflies
2 vocabulary pages
making predictions anchor chart with DRTA 3 pages
analyzing author's craft 2 pages
narrative elements
sequencing
making connections
and summarizing
Plus...A Life Cycles Lapbook Project
and a Class Book Writing Option
34 pages in all
For a detailed look at this unit, a preview is provided with most pages visible.
© 2019 Comprehension Connection by Carla Fedeler All rights reserved.
Save this product for later