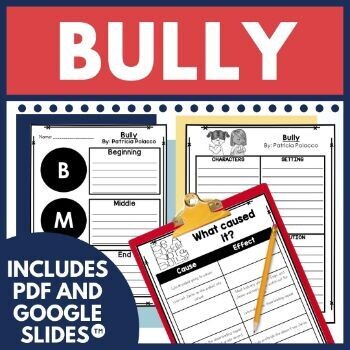 Bully by Patricia Polacco Book Companion
SKU 00088
Product Details
is the perfect book for counselors, tech specialists, and classroom teachers. This unit provides teachers with resources for comprehension that also provide content for discussing the themes of bullying, cyber bullying, cliques, internet safety, and welcoming new students to school.
HOW CAN TEACHERS USE THIS UNIT FOR BULLY?
The unit is comprehension focused. It is designed in a before, during, and after format. Teachers can pick and choose the comprehension activities that match their standards. I also suggest including your Tech Specialist and Guidance Counselor as you work with this book. They can reinforce the themes too. The activities come prepped for Google Slides TM and in PDF.
WHAT SKILLS ARE INCLUDED IN THE BULLY UNIT?
developing schema (Give One, Get One about Handling Bullying)
vocabulary organizer and word cards
cause and effect anchor chart and activity
character, setting, problem, solution activity
making connections
BME response form
questioning task cards and response form
summarizing
character traits (Lyla)
My Advise for Lyla
Persuasive Writing Prompt and Resources (includes six traits anchor charts and checklists, brainstorming page, planning page, rough draft/final draft pages-8 pages)
This bundle also uses Bully as a mentor text for writing. Writing skills include a focus on writing a persuasive essay addressing the Six Traits. Please download the preview to get a close up view of what's included.
The unit includes 53 pages aligned with the Common Core and Virginia SOL standards.
TEACHERS LIKE YOU SAID…
⭐️⭐️⭐️⭐️⭐️ Elandra J. says, "This resource was extremely helpful in teaching my 5th grade MD class to identify themes. My students were engage and actively participating in the lessons. The resource is easy to prepare and use. "
⭐️⭐️⭐️⭐️⭐️ Elizabeth Seifert says, "Easy to use and interesting for the students. Great beginning of the year text and activities. "
⭐️⭐️⭐️⭐️⭐️ Kristi S. says, "I was very excited to come across this wonderful resource! I am actually planning to use it as the mentor text for my "Anti-Bullying" Drama unit!! Looking forward to it!!! Thank you for creating this =)."
⭐️⭐️⭐️⭐️⭐️ Elizabeth P. says, "I love the book Bully. I read it to my students and did the suggested activities."
OTHER PATRICIA POLACCO UNITS YOU MAY ENJOY
To get them all, purchase the Patricia Polacco Author Study Bundle.
PATRICIA POLACCO AUTHOR STUDY IN DIGITAL AND PDF
Copyright © Comprehension Connection.
Permission to copy for single classroom use only.
Please purchase additional licenses if you intend to share this product.
Save this product for later