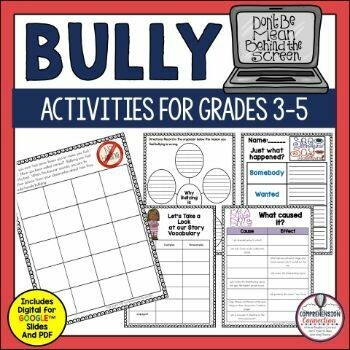 Bully by Patricia Polacco Book Companion
SKU 00088
Product Details
Bully is the perfect book for counselors, tech specialists, and classroom teachers. It deals with bullying/cyber bullying, cliques, internet safety, and welcoming new students to school. This comprehension focused bundle is designed in a before, during, and after format. The reading activities included address the following skills with Google Apps and PDF formats:
Developing schema
Vocabulary
Comprehension skills including:
cause/effect relationships
making connections
story elements
summarizing
character traits, and
questioning
This bundle also uses Bully as a mentor text for writing. Writing skills include a focus on writing a persuasive essay addressing the Six Traits.
The unit includes 40 pages aligned with the Common Core and Virginia SOL standards.
Save this product for later