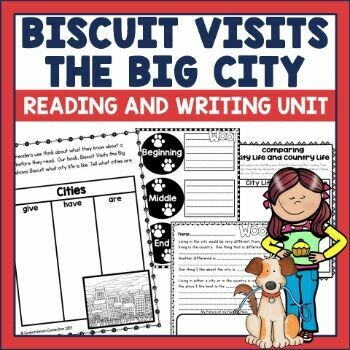 Biscuit Visits the Big City Book Companion
SKU 00129
Product Details
Biscuit Visits the Big City is a lovely book and a great choice for beginning guided reading. This PRINT AND GO unit will help your students
get plenty of reading practice as close reading routines are implemented. It's organized in a BEFORE/DURING/AFTER format for consistent skill modeling and practice.
WHAT'S INCLUDED IN THIS UNIT?
✱ prereading schema builder about living in the city
✱ vocabulary organizer and word cards
✱ comparing cities and counties
✱ puppy poetry for fluency practice
✱ visualizing
✱ making connections organizer
✱ summarizing information (BME)
✱ questioning task cards and response form
✱ summarizing with time order words
✱ and writing frame about living in the city versus country
Be sure to check out the preview included above for a detailed look at the pages.
© 2019 Comprehension Connection by Carla Fedeler All rights reserved.

Save this product for later