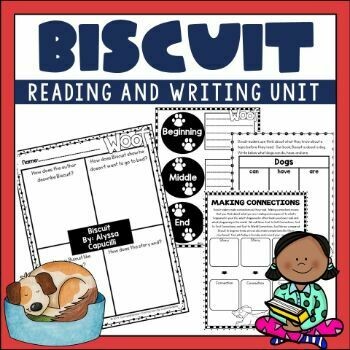 Biscuit Book Companion
SKU 00127
Product Details
Biscuit is a lovely book and a great choice for beginning guided reading. This PRINT AND GO unit will help your students get plenty of reading practice as close reading routines are implemented. It's organized in a BEFORE/DURING/AFTER format for consistent skill modeling and practice.
WHAT'S INCLUDED IN THIS UNIT?
prereading schema builder about dogs
vocabulary organizer and word cards
fiction and nonfiction anchor chart
fiction vs nonfiction text evidence and opinion
making comparisons between Biscuit and other dogs
making connections anchor chart and organizer
summarizing information (BME)
questioning page
and writing in the form of a book report project.
Be sure to check out the preview included above for a detailed look at the pages.
© 2019 Comprehension Connection by Carla Fedeler All rights reserved.

Save this product for later