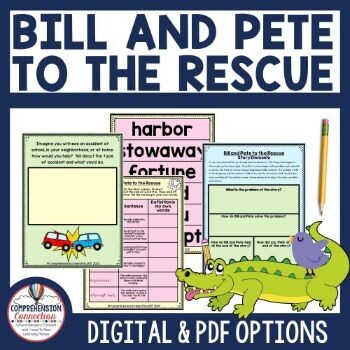 Bill and Pete to the Rescue by Tomie dePaola Lessons and Activities
SKU 00125
Product Details
is about Bill and Pete's adventures to the Exotic Animal Farm. This PRINT or PROJECT collection of comprehension activities for Bill and Pete to the Rescue will help your kids enjoy the book and work on comprehension skills too. Use them in guided reading, as mentor text lessons, with partners, or in stations. You'll have LOTS of options to choose from
Schema Builder-Quick Write about an Accident
Vocabulary organizer and word cards
Questioning Anchor Chart and Stop and Jot Organizer
Plot Analysis-Anchor Chart and Guided Activity
BME Summarizer
Character Traits-Finding Text Evidence
Sequencing Events
Analyzing the Story-Author's Purpose, Genre, Point of View, and Theme
Quiz/Questioning Work
Cause and Effect Relationships-anchor chart and foldable
Bill and Pete to the Rescue Writing Prompt (class book of Bill and Pete Adventure)
The bundle includes 21 well planned pages IN PDF AND DIGITAL to give you several skill options. A preview of the materials included is attached, so be sure to look closely.
RELATED TOMIE DEPAOLA RESOURCES YOU MIGHT LIKE:
Tomie DePaola is a favorite author of many elementary teachers. I have created resources for many of his books including:
You can also save money and get the full Tomie DePaola Author Study Bundle.
HERE'S WHAT OTHER TEACHERS THOUGHT ABOUT THE UNIT:
⭐️⭐️⭐️⭐️⭐️Pleased with purchase!
⭐️⭐️⭐️⭐️⭐️Perfect for my second graders' author study on Tomie dePaola! Thank you!
⭐️⭐️⭐️⭐️⭐️We enjoyed it. Thanks.
⭐️⭐️⭐️⭐️⭐️This was very engaging for 2nd graders.
⭐️⭐️⭐️⭐️⭐️Loved it - thanks! My kids enjoyed it too 🙂
Copyright © Comprehension Connection.
Permission to copy for single classroom use only.
Please purchase additional licenses if you intend to share this product.
Save this product for later