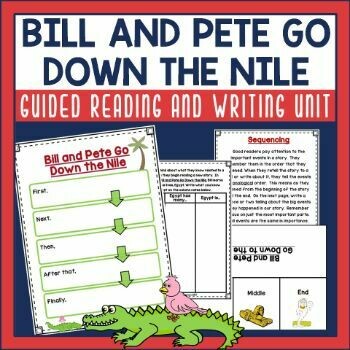 Bill and Pete Go Down the Nile
SKU 00122
Product Details
Bill and Pete Go Down the NIle by Tomie dePaola is about Bill and Pete's adventures going down the Nile. It includes references to important Egyptian landmarks, so it's a great tie-in with Egyptian studies This collection of comprehension activities will help your kids enjoy the book AND work on comprehension skills too. Use them in guided reading, as mentor text lessons, with partners, or in stations.
WHAT'S INCLUDED:
✱Schema Builder-Column Notes about Egypt
✱Vocabulary organizer and word cards
✱Beginning, Middle, End Anchor Chart and Foldable
✱Sequencing Anchor Chart and Organizer
✱Visualizing Storyboard
✱Making Connections
✱Story Elements (characters, setting, problem, and solution)
✱Character Traits Chart and Foldables
✱3-2-1 Summarizer
✱My Trip Down Memory Lane Class Book
The bundle includes 20 well planned pages to give you several skill options. A preview of the materials included is attached, so be sure to look closely.
Save this product for later