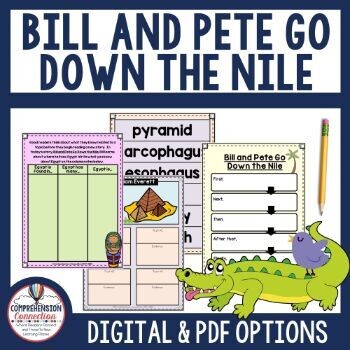 Bill and Pete Go Down the Nile by Tomie dePaola Lessons and Activities
SKU 00122
Product Details
Bill and Pete Go Down the NIle by Tomie dePaola is about Bill and Pete's adventures going down the Nile. It includes references to important Egyptian landmarks, so it's a great tie-in with Egyptian studies This collection of comprehension activities will help your kids enjoy Tomie dePaola's wonderful writing AND work on comprehension skills too. Use them in guided reading, as mentor text lessons, with partners, or in stations. Comes in PDF, Google Slides TM, and EASEL
What's included in the Bill and Pete Go Down the Nile Bundle
Schema Builder-Column Notes about Egypt
Vocabulary organizer and word cards
Beginning, Middle, End Anchor Chart and Foldable
Sequencing Anchor Chart and Organizer
Visualizing Storyboard
Making Connections
Story Elements (characters, setting, problem, and solution)
Character Traits Chart and Foldables
3-2-1 Summarizer
My Trip Down Memory Lane Class Book
The bundle includes 20 well planned pages in DIGITAL and PDF to give you several skill options. A preview of the materials included is attached, so be sure to look closely.
RELATED TOMIE DEPAOLA RESOURCES YOU MIGHT LIKE:
Tomie DePaola is a favorite author of many elementary teachers. I have created resources for many of his books including:
You can also save money and get the full Tomie DePaola Author Study Bundle.
WHAT OTHER TEACHERS HAVE TO SAY:
⭐️⭐️⭐️⭐️⭐️ Thank you! This looks like a great unit. I like that you've included many comprehension strategies: building prior knowledge, vocabulary, sequencing, and visualizing. 🙂
⭐️⭐️⭐️⭐️⭐️ Absolutely awesome! The class had so much fun making these! Really helped with the story comprehension too!
⭐️⭐️⭐️⭐️⭐️ Great resource for an author study. My students loved the activities.
⭐️⭐️⭐️⭐️⭐️ I love Tomie dePoala! Thanks for giving me more ideas to work with.
⭐️⭐️⭐️⭐️⭐️ Thanks so much!!! What a great unit. Love the graphic organizer and the clip art. Great way to engage the students.
Copyright © Comprehension Connection.
Permission to copy for single classroom use only.
Please purchase additional licenses if you intend to share this product.
Save this product for later