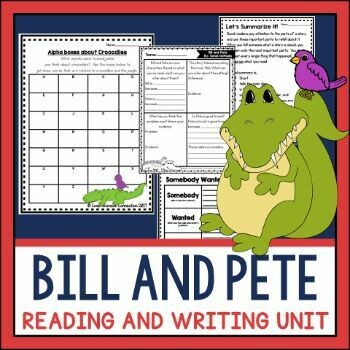 Bill and Pete Book Companion
SKU 00124
Product Details
is the first of the series and explains how Bill and Pete became friends. I This PRINT and GO collection of comprehension activities will help your kids enjoy the book and work on comprehension skills too. Use them in guided reading, as mentor text lessons, with partners, or in stations. You have LOTS of options.
The bundle includes the following:
Schema Builder-Alphaboxes about Crocodiles
Vocabulary organizer and Word Cards
Inferences column notes activity
BME organizer
Making Connections
Story Elements and Visualizing Story Elements
Sequencing Anchor Chart and Organizer
Summarizing Anchor Chart and Organizer
SAVED summary
Question task cards and response sheet
My Friend and I Class Book
25 pages
The bundle includes 25 well planned pages to give you several skill options. A preview of the materials included is attached, so be sure to look closely.
Save this product for later