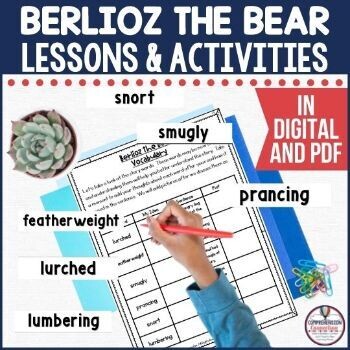 Berlioz the Bear by Jan Brett Activities
SKU 00087
Product Details
Berlioz the Bear by Jan Brett is a classic tale and one of her first titles. This EASY TO USE reading unit will keep students engaged and help deepen their understanding of the book. Jan Brett's rich vocabulary and unique style makes her the perfect author for your middle grade students.
HOW IS THE BERLIOZ THE BEAR UNIT ORGANIZED?
The bundles includes before, during, after activities in both black and white PDF for printing as well as full color digital using Google Slides TM. You can use the color version for skill modeling on your Smartboard or with your one-to-one devices (one page at a time) offering you many more options.
WHAT'S INCLUDED IN THE BERLIOZ THE BEAR UNIT?
schema building about music, instruments, etc.

tier 2 vocabulary introduction and practice (organizer and word cards)

making predictions with I Know, I See, I Wonder strategy

story elements (story map)

summarizing (The Important Thing)

sequencing the story events

four square thinking map for post reading

questioning task cards and response sheet (4 pages)

writing in response to reading
(17 pages total PDF and 17 pages Digital)
WHAT OTHER TEACHERS HAVE TO SAY:
⭐️⭐️⭐️⭐️⭐️ Ann S. says, "A great book and helpful unit to use in a music based summer school camp."
⭐️⭐️⭐️⭐️⭐️ Brittany M. says, "The kids loved this cute resource!"
⭐️⭐️⭐️⭐️⭐️ Davonne John. says, "This was a great resource for a book study! I liked the comprehension questions, writing activity, and the craft that was provided. Thanks for a great resource!"
OTHER JAN BRETT RESOURCES YOU MIGHT LIKE:
Copyright © Comprehension Connection All rights reserved by author. Permission to copy for single classroom use only. Not for public display. Please purchase additional licenses if you intend to share this product.
Save this product for later