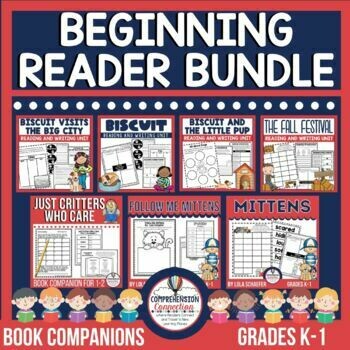 Beginning Reader Book Companion Bundle
SKU 00203
Product Details
This bundled set of beginning reader book companions will make planning so much easier for the K-1 teachers. The companions include vocabulary and comprehension activities your students can use in Guided Reading Groups, Literature Circles, or with a partner.
Titles include the following:
Biscuit by Alyssa Capicilli
Biscuit and the Little Pup by Alyssa Capicilli
Biscuit and the Big City by Alyssa Capicilli
Mittens by Lola Schaefer
Follow Me, MIttens by Lola Schaefer
The Fall Festival by Mercer Mayer, and
Just Critters Who Care by Mercer Mayer
Materials are presented in a before/during/after fashion. Skills include the following:
prereading schema building
vocabulary activities
making connections
questioning
beginning, middle, end
visualizing
making comparisons
retelling story plot
character traits
comparing fiction and nonfiction
written projects.
sequencing
The unit bundle includes between 15-20 pages of activities for each title...approximately 110 pages total. Please view the preview files to see exactly what you will be purchasing. For details for each title, you can click the links below or look through the preview pdfs.
Save this product for later