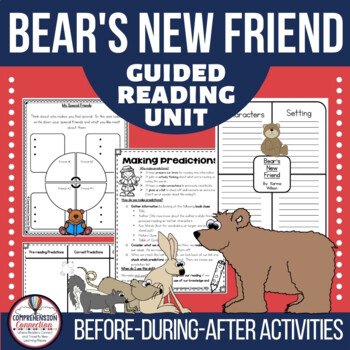 Bear's New Friend Book Activities
SKU 00271
Product Details
is another sweet book from Karma Wilson. The playful rhyme and rhythm will grab your students' attention, and the theme is even better, and with this resource, you can also work on deepening reading comprehension. It works well for skill modeling, small group instruction, and for reading extension for partners.
Product Contents
This unit now includes before, during, and after activities to accompany the book. The focus is on comprehension and writing with this set including the following skills:
Schema building about friendships
Tier 2 Vocabulary
Making Predictions-anchor chart and organizer
Story Elements-anchor chart and organizer
Character Traits
Summarizing Text
Book Quiz
Revisiting Vocabulary
Making Connections-anchor chart and organizer
Making Comparisons across Texts
A Postcard to Bear
Class Book-Classmates AND Friends-3 pages
19 pages total
For a detailed look at this unit, a preview is provided with most pages visible.
Save this product for later