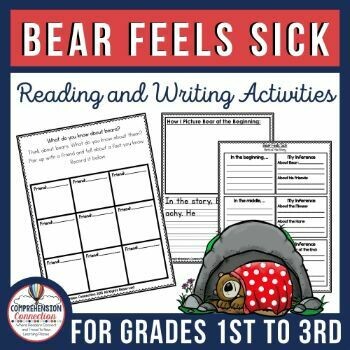 Bear Feels Sick Book Activities and Boom Cards
SKU 00265
Product Details
Bear Feels Sick is the perfect book for the flu season. Like the other Bear books, this one has a playful rhyme and rhythm to grab your students' attention, and the plot will allow for great discussion. This unit includes before/during/after materials for mentor text lessons, small group, or partner work.
This unit now includes before, during, and after activities to accompany the book. The focus is on comprehension and writing with this set including the following skills:
Schema builder about Bear Facts
Tier 2 vocabulary
Making inferences
Visualizing
Comparing Make Believe and Real Bears
Finding Text Evidence
Nonfiction and Fiction
Question Task Cards for Discussion
Writing Prompt using the Writing Process (story sequel)
Boom Learning Comprehension Check (13 slides)
For a detailed look at this unit, a preview is provided with most pages visible.
Thanks for shopping at Comprehension Connection!
Save this product for later