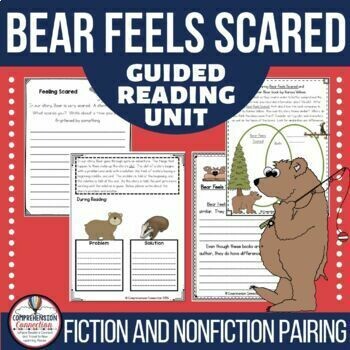 Bear Feels Scared Book Activities
SKU 00270
Product Details
is about Bear getting caught in a storm. Themes explored through this book include storm safety and helping others. This resource is geared to address vocabulary and reading comprehension skills. It's set up in a before-during-after format with the options for skills listed below. The resource works well for guided reading groups, for whole group modeling (mentor text lessons), and for partner work.
Product Descriptions:
Skills addressed in this unit include:
schema building
vocabulary
story plot (problem/solution)
character traits (character webs)
author's purpose
genre
point of view (flipbook foldable)
cause and effect
making connections
questioning (10 questions to check comprehension)
16 pages (Lapbook for Bear Research)
Class Book about Bears (3 pages)
The book level is a strong second grade level, but the book would work well as a read aloud for younger readers to model skills in either small or whole group.
Save this product for later