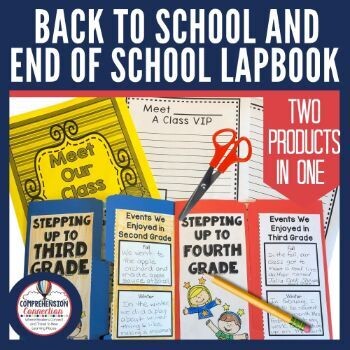 Back to School | End of School Lapbook Project
SKU 00306
Product Details
This 2 in 1 Back to School and End of the Year Lapbook Project will help your students plan for the year through making friendships, reading and math plans, allow them to share special things about themselves, build a school community, and help them take ownership in building the perfect classroom.
At the end of the year, the lapbook offers completely different options to help your students reflect on their progress for the year, describe how they've grown and changed, share friendships they've made, and memories they'll keep for a lifetime. This product may even be used when you come back in January from the winter holiday to refocus for the final stretch!
Product Contents (includes teacher directions)
1. Stepping Up to Grade ??? (2-6)
2. Focusing on Friendship (Friends I Won't Forget and My New Friends)
3. Reading and Math Plans for the Year (beginning) and Accomplishments (end)
4. These are Some of My Favorite Things (beginning) and What's Hot for 2021? (end)
5. My Goals for the Year (beginning) and How I've Changed (end)
6. Words that Describe Me
7. What Made Our Class Great (reflections)/The Perfect Classroom for Me (rules)
8. About the Author (photo/illustration and paragraph)
9. About Our Class and Our Community
10. Meet Our Class Class Book (not part of lapbook)
For a detailed look at this unit, a preview is provided with photos of a beginning of the year project. NOTE-you'll have TWO project options to choose from!
Save this product for later