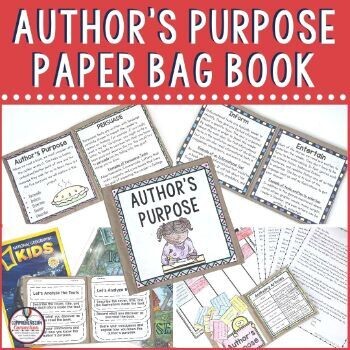 Author's Purpose Project, Paper Bag Book, and Activities
SKU 00332
Product Details
Author's Purpose is not as easy as it seems. With this resource, you can explain it, help students identify the look fors, practice with multiple texts, sort examples, and apply learning with real life examples. When the project is complete, students can refer to it with new reading.
HOW IS THE AUTHOR'S PURPOSE PAPER BAG BOOK ORGANIZED?
This paper bag book project hits all of the teaching points for Author's Purpose, and it can be used with small groups, as a work station, in interactive notebooks, or as an at home project. Students use the beginning pages to learn about each of the five author's purposes. Then, they practice with multiple texts of the teacher's choice. I suggest pulling a wide variety to ensure all five purposes are included. Other activities include a sorting activity and author's purpose in friendly letters.
WHAT'S INCLUDED IN THE AUTHOR'S PURPOSE PROJECT?
Author's Purpose Explained (6 pages)

Author's Purpose with texts Flapbooks

Friendly Letters for a variety of purposes
The final book is 12 pages while the product is 18.
OTHER COMPREHENSION FOCUSED PAPER BAG BOOK PROJECTS:
GET THEM ALL IN THE PAPER BAG BOOK BUNDLE:
WHAT TEACHERS HAVE HAD TO SAY ABOUT MY PAPER BAG BOOKS:
⭐️⭐️⭐️⭐️⭐️ Mrs Longoria's World. says, "So cute! My kids loved making these."
⭐️⭐️⭐️⭐️⭐️ DeeDee C.says, "This is such an original idea! My students enjoyed this and learned a lot at the same time!"
⭐️⭐️⭐️⭐️⭐️ Amazing Materials for You by Amy Dickson (TpT Seller) says, "I love the interactive nature of this resource! I also love how I can use it for independent work, in a center, or in a small group. Fantastic product!"
⭐️⭐️⭐️⭐️⭐️ Maria S. says "The students discussed and used their notes in groups to work on this assignment. This was great for collaboration and for the students to teach each other what they learned."
⭐️⭐️⭐️⭐️⭐️ Debra L. says "My students loved using this resource, it was fun and easy to use. I had to differentiate with my ESL students. It did not take much time to set it up and use it. "
Copyright © Comprehension Connection.
Permission to copy for single classroom use only.
Please purchase additional licenses if you intend to share this product.
Save this product for later