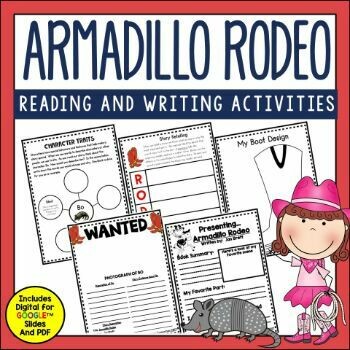 Armadillo Rodeo
SKU 00086
Product Details
If you're using a rodeo theme this year, Armadillo Rodeo is the perfect book. It's one of my favorite Jan Brett titles, and this unit will make your planning EASY and lessons EFFECTIVE. This comprehension focused book companion includes materials to use with a guided reading group or as a mentor text before/during/after reading in both PDF and electronic formats using Google Slides TM. You can project the color version or use them on your one-to-one devices.
Skills taught through this book include:
schema building about rodeos

vocabulary

character traits

plot (beginning, middle, end)

elements of fiction

summarizing

character change and evidence

questioning task cards and response sheet

writing about reading

and theme extension.
Save this product for later