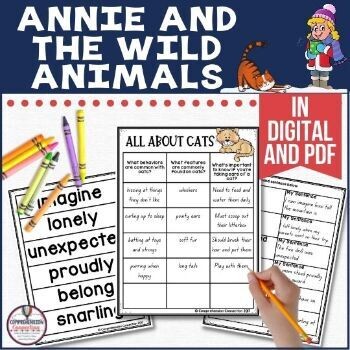 Annie and the Wild Animals by Jan Brett Lessons and Activities
SKU 00121
Product Details
Annie and the Wild Animals is perfect for use during the winter. This engaging unit for the book includes materials you can print or project for easy teaching and planning. Your students will enjoy the story AND the lesson activities.
The unit is organized in a before, during, and after format in digital for Google Slides TM and in PDF making it perfect for mentor text or read aloud lessons. Yet, you can use the printed version for book clubs or partner work too.
WHAT'S INCLUDED IN THE ANNIE AND THE WILD ANIMALS UNIT?
schema building about cats
vocabulary organizer and word cards
story elements stop and jot form
retelling using a framed paragraph
making comparisons between Taffy and other animals
questioning (task cards) and response form
summarizing the story (book report form)
and class book (The Many Adventures of Taffy)
32 PAGES (1/2 PDF AND 1/2 GOOGLE SLIDES TM)
WHAT OTHER TEACHERS HAVE TO SAY:
⭐️⭐️⭐️⭐️⭐️ Buyer says, "Used this resource for substitute lesson plans. So helpful. Thank you so much!."
⭐️⭐️⭐️⭐️⭐️ Adrienne G. says, "Great resource!! My students love it! "
⭐️⭐️⭐️⭐️⭐️ Amy Larson says, "Worth the money!"
⭐️⭐️⭐️⭐️⭐️ Sean M. says, "Very creative and thorough guide to use as we used Annie and the Wild Animals for a close reading lesson."
OTHER JAN BRETT RESOURCES YOU MIGHT LIKE:
Copyright © Comprehension Connection All rights reserved by author. Permission to copy for single classroom use only. Not for public display. Please purchase additional licenses if you intend to share this product.
Save this product for later