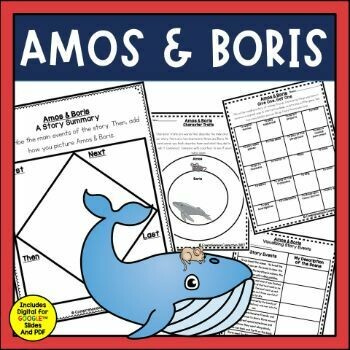 Amos & Boris Book Companion
SKU 00085
Product Details
Amos & Boris is a great choice any time of year. Kids love and need stories of friendship. This unit includes before/during/after activities for the book as well as an extension option for writing using the book as a mentor text. Use the activities in guided reading, as mentor text lessons, with paired reading experiences, or for literature circles. Now available as a PDF and in an editable form for Google slides for those who want to go paperless. Why choose when you can have both options, right?

The skills addressed in this unit include the following:

Give One Get One Whole Group Schema Builder
Vocabulary Words Organizer
Character Traits-finding text evidence for Amos and Boris
Cause and Effect Story Retelling
Visualizing Story Events
Story Elements
Question Task Cards and Response form for group discussion or assessment
Unlikely Friends Class Book
Thanks for taking the time to peek at my unit. I hope you find it meets your classroom needs. Please be sure to look at the unit preview for page details.
Save this product for later