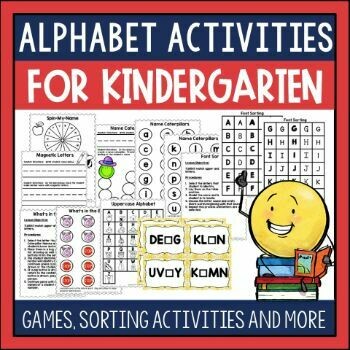 Alphabet Activities for Emergent Readers
SKU 00074
Great for tutors, small group instruction, and literacy stations.
Product Details
Letter Recognition and sounds are important kindergarten concepts. This RTI set will help teaching assistants, parent tutors, and the classroom teacher with addressing student deficits with letters in student names, letter recognition in other texts (upper and lowercase letters) and letter sounds. The activity directions and objective are written in clear step by step directions for anyone to pick up and use. Gameboards and manipulatives can be placed on sheet protectors for storage behind the plan so that they can be pulled from a binder and used with individuals or small groups.
Here is the Table of Contents:
I. I Know the Letters in My Name
*Spin My Name
*Tourch Point I Spy
*Magnet Letters
*Name Caterpillars
*Name Scramble
II. Upper and Lowercase Letter Naming
*Font Sorting
*What's in the Bag?
*Pair 'Em Up
*Spin and Match
*I Know, I See, I Write
III. Alphabet Order
*What's Next?
*What's Missing?
*Unscramble the Order
*I Know, I See, I Share
*Magnet Letter Arrangements
IV. An alphabet book
Some prep is involved, so allow time for printing and laminating. My suggestion would be to print, laminate, cut and place in sheet protectors inside a binder for the tutor to pull and use or in a tutoring bin. Some time will be needed up front, but once it's done, it should be quite helpful to your struggling readers.
Save this product for later