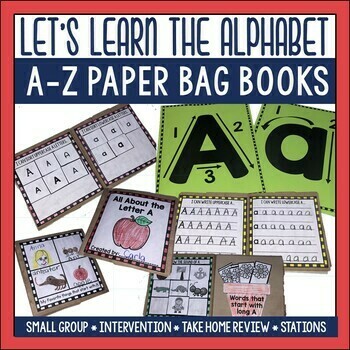 Alphabet A to Z Paper Bag Books
SKU 00014
Hands-on Activities | 26 Books for a Dollar Each | Great for Kindergarten
Product Details
Are you teaching the alphabet letters, formation, and sounds? Check out these hands-on paper bag books for engaging practice in Kindergarten. These paper bag mini book projects will help your students' letter knowledge with letter formation, letter recognition, and the letter sounds practice. The bundle includes materials to make a book for each letter of the alphabet. You can use them for small group instruction in kindergarten or as a literacy workstation run by a parent volunteer or a teaching assistant.
Each Project Includes Eight Pages:
⍟ A Cover for letter introduction
⍟ Writing Uppercase Letters
⍟ Writing Lowercase Letters
⍟ Sorting Upper and Lowercase Fonts (2 pages)
⍟ Sorting pictures that start with each letter (2 activities)
⍟ Drawing pictures of words that start with each letter.
Each book requires two paper lunch bags and the printed pages in each file as well as a scissors, glue, and crayons. I would spread out the construction across the week and focus on letter formation one day, letter identification a day, and letter sounds two days.
NOTE-You can also glue the pages into a composition notebook if it is easier for your students.

To try a sample of this bundle, the letter A book is free. You can download it with the link below:
Save this product for later