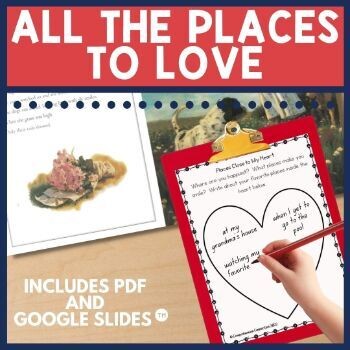 All the Places to Love Reading and Writing Unit
SKU 00119
Sweet Meaningful Book | Comprehensive Activities | Time Saving
Product Details
by Patricia MacLachlan is one my favorite mentor texts for writing. This EASY TO USE unit includes options for comprehension and writing. Analyze author's craft and then use it to model descriptive writing. is descriptive and great for making connections too.
HOW IS THE ALL THE PLACES TO LOVE UNIT ORGANIZED?
The unit includes before-during-after activities for both reading and writing model lessons related to word choice. For this unit, you will work with the comprehension and book analysis materials first as well as the questioning task cards for group discussion, and then teach descriptive writing with the writing materials. PLUS, this unit now includes a full color digital version for Google Slides TM.
WHAT'S INCLUDED IN THE ALL THE PLACES TO LOVE UNIT?
schema builder about favorite places
vocabulary work for the tier 2 words and word cards
plot anchor chart
beginning/middle/end summaries
making connections
guided questions/column notes
making inferences using text examples
questioning and finding text evidence task cards
visualizing
plus six pages for writing including a planning page and writer's checklist.
42 pages in all (1/2 B/W PDF and 1/2 Color Digital for Google Slides TM)
OTHER MENTOR TEXT UNITS YOU'D LOVE:
WHAT TEACHERS HAVE HAD TO SAY ABOUT THIS UNIT:
⭐️⭐️⭐️⭐️⭐️ Laura V. says, "Thank you for creating a companion to accompany my favorite book!"
⭐️⭐️⭐️⭐️⭐️ Sheri H. says, "Loved this book and this packet was nice supplement!"
⭐️⭐️⭐️⭐️⭐️ The Ultimate Teaching Store says, "Great book and a great resource to go with it!"
⭐️⭐️⭐️⭐️⭐️ Tracy Mailloux says, "I love all things Patricia MacLachlan! This is going to be a great addition to my resources not only for guided reading but for teaching narrative writing too."
Copyright © Comprehension Connection.
Permission to copy for single classroom use only.
Please purchase additional licenses if you intend to share this product.
Save this product for later