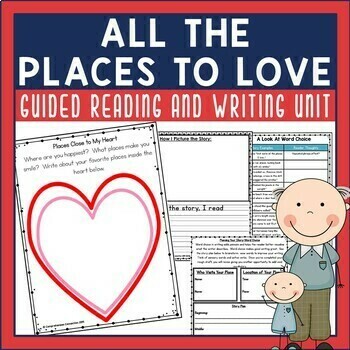 All the Places to Love Reading and Writing Unit
SKU 00119
Sweet Meaningful Book | Comprehensive Activities | Time Saving
Product Details
This PRINT AND GO book companion for includes before-during-after activities for both guided reading and writing model lessons related to word choice. For this unit, you will work with the comprehension and book analysis materials first as well as the questioning task cards for group discussion, and then teach descriptive writing with the writing materials.
WHAT'S INCLUDED:
schema builder about favorite places
vocabulary work for the tier 2 words and word cards
plot anchor chart
beginning/middle/end summaries
making connections
guided questions/column notes
making inferences using text examples
questioning and finding text evidence with recording sheet
visualizing
plus six pages for writing including a planning page and writer's checklist.
23 pages in all

For a detailed look at this unit, a preview is provided with most pages visible.
© 2019 Comprehension Connection by Carla Fedeler All rights reserved.

Save this product for later