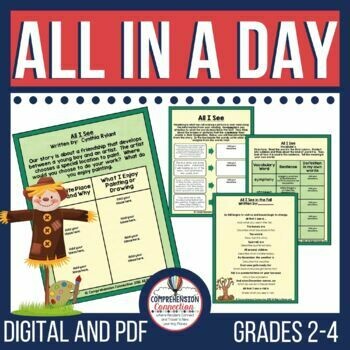 All in a Day by Cynthia Rylant Book Activities
SKU 00301
Product Details
All in a Day by Cynthia Rylant is a simple book with a message your students need...Make the Most of Every Day. Rylant takes a simple day to show how we need to savor the little things and make the most of each moment. This bundle includes before, during, after activities in PDF and Digital formats for Google Slides TM. Use the activities for skill modeling, in guided reading groups, for partner activities, or for independent work.
Product Information:
Included in this unit is:
a goal setting organizer
making predictions organizer
vocabulary preteaching page
visualizing including a specific text example
sequencing
making connections
author's message
questioning task cards and response sheet,
and several written responses including a class book option.
This book would work well at the beginning of the year as a read aloud or at grading periods where students can plan for the coming quarter. It'd be a great choice as a writing mentor text.
Purchasing Options:
This book is available individually through this link, but also as part of a Cynthia Rylant Author Study bundle. (best value)
Save this product for later