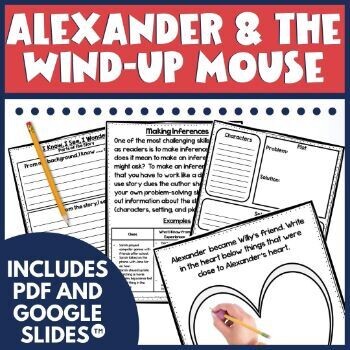 Alexander and the Wind Up Mouse Unit
SKU 00069
This comprehension focused unit for Leo Lionni's classic tale is great for second grade.
Product Details
Alexander and the Wind-Up Mouse by Leo Lionni is a sweet book of friendship. It is best suited for second to third grade students. This Common Core aligned and comprehension focused unit makes planning EASY and teaching EFFECTIVE! It includes before/during/after activities you can use for mentor text lessons, book clubs, guided reading, or paired reading.
WHAT ACTIVITIES ARE INCLUDED IN THE ALEXANDER AND THE WIND-UP MOUSE UNIT?
️I Know, I See, I Wonder (prereading)
️Alphaboxes
️Vocabulary page and word cards for modeling
️Story Elements Anchor Chart
️Story Elements Organizer
️Concept Sort
️Questioning Page
️Character Analysis
️Making Inferences Anchor Chart
️My Inference (favorite scene)
Comparing Leo Lionni's Books
️Writing in Response to Reading
️Class Book Cover
️Writing page for Alexander's New Friend
️What's Close to Alexander's Heart
38 pages total
WHAT OTHER TEACHERS HAVE THOUGHT OF THIS UNIT:
⭐️⭐️⭐️⭐️⭐️ Giant Iceberg (TpT Seller) says, "Great things that I haven't seen with other sellers!"
⭐️⭐️⭐️⭐️⭐️ Kathryn S. says, "An amazing resource; thank you for sharing your hard work and creativity with others!"
⭐️⭐️⭐️⭐️⭐️ Carrie C. says, "Great follow up to the book. Engaging activities."
⭐️⭐️⭐️⭐️⭐️ Elizabeth R. says, "More than enough to thoroughly cover the story, very well thought out"
Copyright © Comprehension Connection.
Permission to copy for single classroom use only.
Please purchase additional licenses if you intend to share this product.
Save this product for later