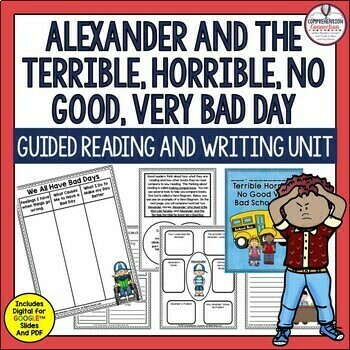 Alexander and the Terrible, No Good, Very Bad Day
SKU 00108
Perfect for second and third grade, this comprehension focused unit comes in digital for Google Slides TM and in PDF.
Product Details
We all have bad days, and this classic book is one every child can connect to. This bundle includes a variety of comprehension focused activities to make reading the book meaningful. Alexander and the Terrible, Horrible, No Good, Very Bad Day is an all-time favorite for character analysis, but this 44 page unit (22 in PDF and FOR GOOGLE SLIDES TM (same skills) will also help you teach the following skills:
1) how to handle tough days
5) story elements including anchor chart and story map
9) writing about reading,
11) writing in responds to reading (several pages for a class book).
12) question task cards are included too with a response form.
Save this product for later