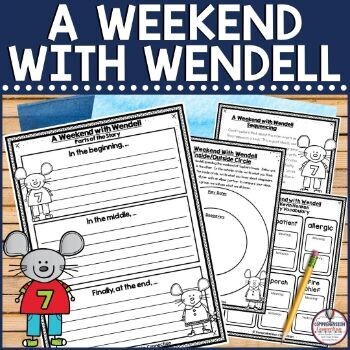 A Weekend at Wendell's Activities
SKU 00118
Product Details
A Weekend with Wendell is the perfect ice breaker book to start the year or any time you want to work on classroom community. Kids love Kevin Henkes' books and relate well to them. This comprehension focused unit will make your interactive read aloud, mentor text lesson, or guided reading lesson purposeful. Your students will love it!
HOW TEACHERS CAN USE THE UNIT FOR A WEEKEND WITH WENDELL:
The unit has before, during, and after activities in both Google Slides TM and PDF, so teachers can model with the color version while students complete the paper/pencil tasks. You can use the activities with whole group, small group, book clubs, or in stations, and you can pick and choose which works best for your standards. Note-the Google Slides TM link is on the second page of the PDF.
WHAT SKILLS ARE INCLUDED IN THE UNIT?
♦️ a schema building (prereading) page about play dates and sleepovers
♦️ tier 2 vocabulary activity
♦️ sequencing events page
♦️ cause and effect relationships
♦️ summarizing with beginning, middle, and end
♦️ story elements
♦️ questioning task cards and response form
♦️ Give One Get One
♦️ character traits
♦️ writing about reading
♦️ and a class book.
38 pages in all (1/2 PDF and 1/2 Google Slides)
OTHER RESOURCES YOU MIGHT LIKE:
This unit can be purchased individually or as part of my Kevin Henkes Author Study at a discounted rate. The author study includes the following titles:
TEACHERS LIKE YOU SAID…
⭐️⭐️⭐️⭐️⭐️ Bevin Gambill (TpT Seller) says, "Great packet to pair with this beloved Kevin Henkes story! Easy to prepare and very age appropriate for my second graders! "
⭐️⭐️⭐️⭐️⭐️ Cynthia B. says, "My students enjoyed interacting with this great resource for a great book. All of the activities help to enhance the discussion of the book. Thanks for sharing."
⭐️⭐️⭐️⭐️⭐️ Jessica A. says, "These activities are so cute and the kids love them!"
⭐️⭐️⭐️⭐️⭐️ Danielle P. says, "Great extension activities for the book!"
Copyright © Comprehension Connection.
Permission to copy for single classroom use only.
Please purchase additional licenses if you intend to share this product.
Save this product for later