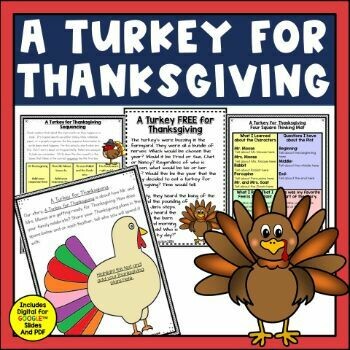 A Turkey for Thanksgiving
SKU 00136
Product Details
A Turkey for Thanksgiving by Eve Bunting is an excellent choice as a mentor text for comprehension strategies (character development, story elements, visualizing, and cause/effect as well as for writing, Plus, this Print and Go unit makes planning easy on the teacher.
In this book companion set, you have lots of options. It is set up in a before/during/after format for guided reading, but parts can also be used for mentor text lessons and for writing. Plus, you now get the unit in both printable PDF version and a version using Google Slides TM. The printable PDF is in black and white (mostly) while all pages were converted to color for the Google Slides TM option to make them more appealing on your one-to-one devices.
Skills included are:
Schema building about Thanksgiving Plans (quick write)
Vocabulary organizer and cards
Story elements turkey project
Four Square Thinking
Cause/effect (anchor chart and response pages)
Question task cards (4 per page and 1 per page for projecting and response page)
Summarizing the main idea
Class Book-A Turkey FREE for Thanksgiving
22 pages for each
If you have questions, please ask. If you prefer to purchase on TPT, click the button below.
Save this product for later