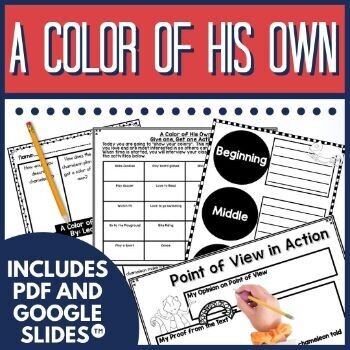 A Color of His Own Activities in Digital and PDF
SKU 00116
A Leo Lionni classic tale about individual needs. Great discussion builder.
Product Details
A Color of His Own by Leo Lionni is a sweet book about a chameleon finding his style. This Digital and PDF unit includes before, during, after activities to keep your students engaged and thinking actively.
HOW DOES THIS UNIT FOR A COLOR OF HIS OWN WORK?
The activities are comprehension focused and address several reading skills. It comes in PDF for printing and can be used digitally with EASEL. I will be adding Google Slides TM in the future to make teaching EASY and EFFECTIVE for the classroom teacher.
WHAT ACTIVITIES ARE INCLUDED IN THE COLOR OF HIS OWN UNIT?
schema building (Give one, Get on about Showing Your Colors)
vocabulary organizer and word cards
point of view (2 pages)
character traits
making connections
cause/effect
visualizing
sequencing
BME retelling
guided reading column notes
questioning task cards and recording form for Scoot
writing in response to the reading
38 pages total (21 PDF and 17 Google Slides TM)
WHAT TEACHERS HAVE HAD TO SAY ABOUT MY UNIT:
⭐️⭐️⭐️⭐️⭐️ Deanne W. says, "Super cool tasks to enhance our Talk For Writing lessons! "
⭐️⭐️⭐️⭐️⭐️ Athena H. says, "These activities were wonderful additions for our close read of the book. "
⭐️⭐️⭐️⭐️⭐️ Beth M. says, "I have been wanting to bring in my chameleon and also include a book study. This is perfect! I can't wait to introduce this lesson and Turbo to the class! Thank you!"
⭐️⭐️⭐️⭐️⭐️ LyssBliss says, "I bought this book and the stuffed animal at Kohl's and am so glad there is a unit for it! Very creative and thorough for my 2nd graders. This will be fun to start out the school year!"
Copyright © Comprehension Connection.
Permission to copy for single classroom use only.
Please purchase additional licenses if you intend to share this product.
Save this product for later