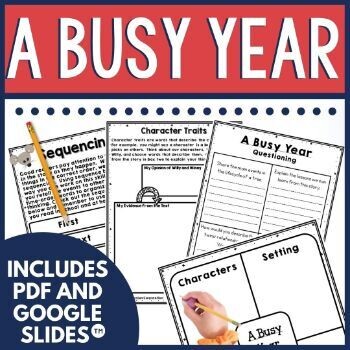 A Busy Year Book Companion
SKU 00151
Comprehension Focused Activities for the Primary Grades
Product Details
A Busy Year by Leo Lionni is a sweet book about the life cycle of a tree and how two mice take care of it. Students love the little mice in A Busy Year, and teachers love having grab and go lessons! This DIGITAL and PDF unit is perfect for mentor text lessons, book clubs, guided reading groups, and paired reading. It includes choices for before, during, after reading.
ACTIVITY OPTIONS FOR A BUSY YEAR:
schema building about trees (alphaboxes)
tier 2 vocabulary introduction and practice
sequencing (anchor chart and project) -2 pages
story elements
questioning page
character traits
making connections
visualizing
research report about trees
and writing in response to reading (____ loves the planet)
WHAT OTHER TEACHERS HAVE THOUGHT OF THIS UNIT:
⭐️⭐️⭐️⭐️⭐️ Doris C. says, "Great way to help Kindergarten students understand and make connections to the story. My students enjoyed the activities. "
⭐️⭐️⭐️⭐️⭐️ Jacki S. says, "Great Resource!"
⭐️⭐️⭐️⭐️⭐️Maryann M (TpT Seller) says, "Wonderful! This fit in so well with our year long tree study."
Copyright © Comprehension Connection.
Permission to copy for single classroom use only.
Please purchase additional licenses if you intend to share this product.
Save this product for later